Experience PodMAX Global (completely virtual) July 10, 2020
Introducing a new PodMAX experience…
You've come to know us for our flagship in-person event, PodMAX.
PodMAX, in its original format, is a one day in-person/live event where entrepreneurs have the chance to record as a guest and be interviewed on top podcast shows in their industry.
Now it's time for PodMAX Global: the ONLINE PodMAX experience from On Air Brands!
Be part of the same high-vibe, high-energy experience we've perfected…
Now ONLINE and VIRTUAL for entrepreneurs across the globe!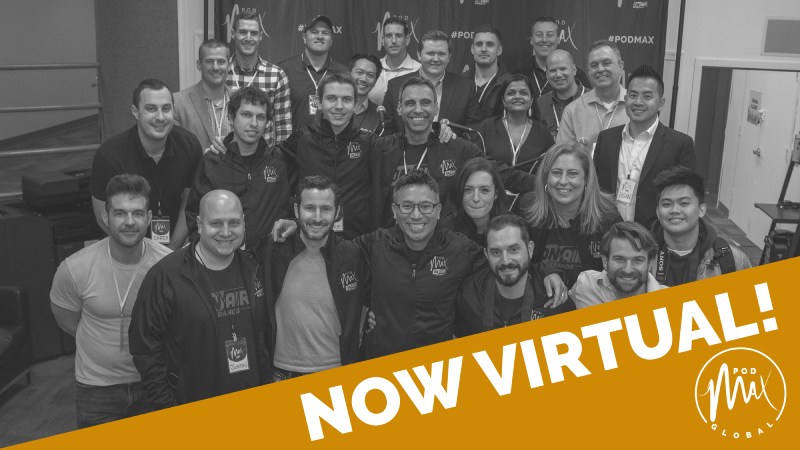 PodMAX Global is a one-day virtual event where we give entrepreneurs (you!) the chance to record and be interviewed as a guest on 3 top podcasts in your industry…
All before the day is done!
Plus, when the mics turn off (in between recordings) you'll be part of a high-level mastermind and networking event that includes relevant panel sessions and a keynote discussion.
Who Is PodMAX Global Right For?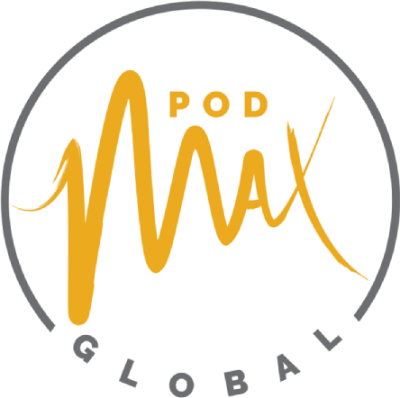 What Does The Day Look Like?
On July 10, PodMAX Global will take place from 9am – 5pm EST inside our private Zoom room.
You'll be given the one link you'll need to access the entire day. Over the course of the day, you'll have 3 scheduled interviews featuring you as the guest.
In between those 3 sessions, you'll enjoy various panel discussions, Q&A sessions to get your questions answered, and a keynote presentation.
As always, PodMAX Global is an EVENT that is more than just the interviews!
Your exact agenda and interview schedule match-up will be delivered to you via email prior to the big day.
PodMAX Global takes place inside our private Zoom room. You'll be provided the link to access prior to the day's event.
We guarantee you'll be a guest on 3 shows. You will know exactly what shows you'll be interviewed on prior to the event. We pride ourselves on bringing together top hosts/shows for you to be interviewed on.
HAVE YOU ATTENDED A PodMAX EVENT IN THE PAST? You will be on 3 completely different shows from any previous shows you already appeared!
Yes! The entire event will be recorded and made available to you for lifetime access. Aside from your 3 podcast interviews, you'll be able to watch the recordings of all the panels and keynote discussion from the day!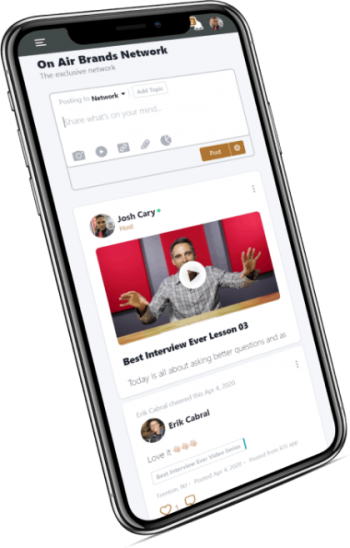 A Big Beautiful BONUS For You!
Welcome to the On Air Brands Network!
When you purchase your ticket to attend PodMAX Global, you'll be given a 12-month access pass to the On Air Brands Network ($1200 value!).
The Network is simply the place where, in the days leading up to the event, you can meet and mingle with all others involved (the hosts, the entrepreneurs, the sponsors, the event creators, etc.).
Once inside, you'll be able to create your profile, watch exclusive video training and courses and begin your PodMAX Global experience prior to the big all-day event on May 22!
Sign Me Up! I'd Like To Attend PodMAX Global!
We're best known for our live in-person PodMAX events, so we're excited to bring this experience online!
With that consideration, we are offering our usual $3,000 valued ticket at a substantial discount.
We know first-hand what this unprecedented time means for so many entrepreneurs and business owners.
PodMAX Global is created to honor YOU during this time and to allow as many entrepreneurs and show hosts to come together for a successful, beneficial, and unique experience.
Sign up to attend PodMAX Global today for only [tickets opening soon]
What You're Going To Get:
NOTE: These PodMAX Live event testimonials share the benefits and feelings directly from our guests and podcasters. PodMAX Global experience can deliver the same level of care and love all from the comfort of your home!
Reviews and Testimonials
What Can You Expect from PodMAX Global?
"The camaraderie… and conversations are phenomenal!"
"I have met such high-caliber people!"
"You gotta check out PodMAX! Great event!"
HAVE YOU ATTENDED A PodMAX EVENT IN THE PAST?
You will appear on 3 NEW shows selected from recent additions to our podcast network!
Watch this space! New talent and brands added weekly!
Our Podcasters' Social Reach
The On Air Brands Network